Main Title:
Fuusen Inu Tinny (
tinnyballoon)
Type:
TV
(5 min. for ep. - 26 episodes)
Date:
26/09/2014 (till?)
Original Work:
illustrated
book, by
Kawamura Genki
.
New anime short one filled with stories of moral lessons to be displayed in public channel NHK.
"Fuusen Inu Tiny" is based on a children's book that tells the story of a dog - what would be normal, if not the detail he constantly go flying above the clouds using a balloon. And it seems that the pictures of disclosure, this is a widespread hobby among his animal friends ...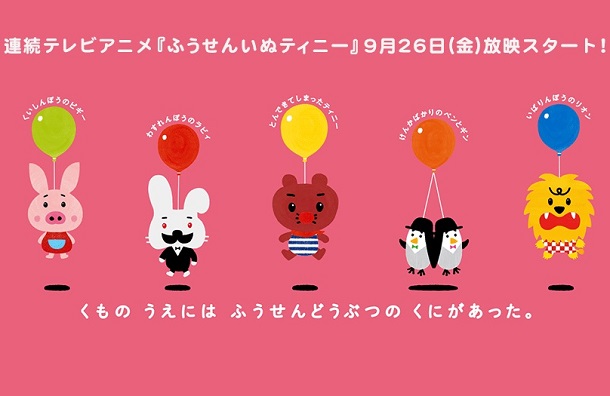 Fuusen Inu Tinny, kodomo animato dalla STEVE N' STEVEN, andrà in onda sulla NHK dal 26 settembre, tutti i venerdì. Saranno dei corti di cinque minuti.


Dei cuccioli, il cui corpo viene legato a dei palloncini, sono trascinati dal vento fin sopra le nuvole. Oltre al protagonista Tinii, troviamo il coniglietto Rabii, il maialino Pigii, il lioncino Lion...




Il tutto nasce da un lavoro originale (libro illustrato) di

Kawamura Genki

.