Gundam Reconguista in G will premiere in Australia and New Zealand on AnimeLab.com from Friday the 3rd of October at 8:00am AEST shortly after the Japanese broadcast and new

episodes

will premiere every following Friday from 7:30am AEST. AnimeLab will be the first service to stream Gundam Reconguista in Goutside of Japan. You can visit AnimeLab.com here.
Madman Entertainment will release the series to home video including DVD, Blu-ray and digital at a date to be confirmed.
Official website:

The first three

episodes

of

Gundam Reconguista in G

were compiled in a special early edition for screenings in 13 theaters in Japan from August 23 to September 5. This edition was streamed from the d anime store service in Japan from September 8 to September 30. The series will

premiere

with two

episodes

tonight (October 2nd) in Japan as part of

MBS

's Animeism block,

Gundam Reconguista in G

is the first

Gundam

series to initially broadcast in a late night timeslot.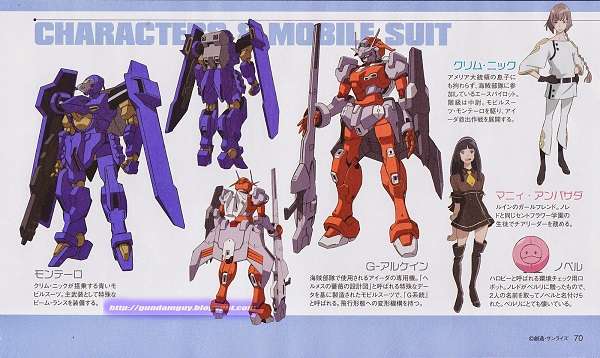 The Story:
Some time has passed since the end of the Universal Century, a history marked by space colonization and space warfare.

Humanity's prosperity, which ushered in a new era known as Regild Century (R.C.), was believed to endure alongside the global peace.

The Capital Tower is an orbital elevator that rose above the Earth's surface and linked Earth and space. As the conduit of the Photon Battery

energy

source to the surface, it is regarded as sacred.

Beruri Zenamu is in the middle of training for the Capital Guard (established to protect the Capital Tower), when the tower is attacked by G-Serufu — a highly maneuverable mobile suit with technology that is not from any known country.

Beruri, who joins the battle in the maintenance mobile suit Rekuten, successfully captures the G-Serufu. However, Beruri feels something for the space pirate girl named Aiida Reihanton who piloted the G-Serufu. It is the same feeling he has for G-Serufu, even though he supposedly never seen it before. The G-Serufu, which should only be operable under specific conditions, is somehow started up by Beruri.

The

objective

of Aiida and the space pirates who attacked the Capital Tower, and the fate followed by Beruri who was chosen by G-Serufu, will lead to truths that will shake the entire Regild Century era.
A brand new series created for the 35th anniversary of

Mobile Suit Gundam

,

Gundam Reconguista in G

sees the return of writer/director

Yoshiyuki Tomino

, the original creator of

Mobile Suit Gundam

. Work on the series

started

before 2012 when the idea was called

G-Reko and Tomino aimed to develop a "boy-meets-girl-&-robot" theme instead of the "boy-meets-robot" dynamic that his work is known for. The series is planned

to run for two cours (half a year / 26

episodes

) and is produced by

Sunrise

.
Italian:
Regia: Yoshiyuki Tomino
Character Design: Kenichi Yoshida
Mechanical Design: Akira Yasuda, Ippei Gybu, Kimitoshi Yamane
Design Works: Shigeto Koyama, Kinu Nishimura, Cheese Goda, Pablo Ichida, Takumi Sakura, Ayumi Kurashima
Color Key - colorazione: Nobuko Mizuta
Art- disegni e fondali: Tomoaki Okada
Musiche: Yuugo Kanno
Direzione del Suono: Eriko Kimura
Produzione: Sunrise
Distribuzione: TOHO Pictures
In attesa dell'esordio televisivo i primi tre episodi dell'anime sono stati proposti - a partire dal 23 agosto al 5 settembre - in 13 cinema giapponesi, dal distributore Toho. Le proiezioni sono state accompagnate da eventi a cui hanno parteciperanno membri dello staff, doppiatori e altri personaggi legati al progetto.
Considerando come altre opere di Tomino si siano basate sulla combinazione "boy-meets-girl-&-robot", possiamo star certi che anche questo progetto si baserà su questa collaudata formula: ovvero un ragazzo ed una ragazza si incontrano, condita con ampio uso di robot.