Alternative title:
みんな集まれ!ファルコム学園SC (Japanese)
Plot Summary:
The warriors who have been warped by the rampaging power of "justice" have been summoned into the world of Xanadu. It's up to Dark Fakt, a former villain, and principal Lappi to reeducate these students.
Vintage: 2015-01-04
The story of the original four panel manga begins when the world is invaded by game developer Nihon Falcom's RPG characters, including characters from Ys, Sorcerian, Eiyū Densetsu Shikkusu Sora no Kiseki (
The Legend of Heroes: Trails in the Sky
). The characters come together in a crazy academy life in celebration of the game maker's
30th anniversary
.
The first season of the TV anime
adaptation
of
Daisuke Arakubo
's Minna Atsumare! Falcom Gakuen (Everyone Gather! Falcom Academy) 4-panel manga premiered in Japan in January.
The
official
website for the
Minna Atsumare! Falcom Gakuen
(Everyone Gather! Falcom Academy) anime
updated
on Saturday, and announced that a second
season
of the TV anime has been green-lit (January 4, 2015
Tokyo MX
).
The
image
posted that celebrates the new anime reads:
Text: Congratulations and thank you for a second season of Minna Atsumare! Falcom Gakuen!!
Raniki: Did someone say Raniki?
Alisa: We didn't, so GO HOME!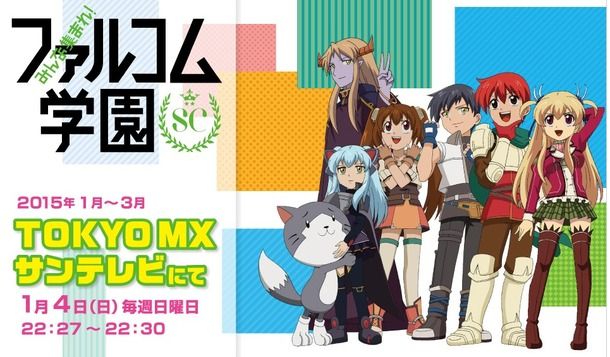 Lo sviluppatore di videogiochi Nihon Falcom Co. ha annunciato il via libera la seconda stagione anime adattamento in anime del manga 4-koma Minna Atsumare! Falcom Gakuen (Everyone Gather! Falcom Academy) di Daisuke Arakubo, la seconda serie di corti animati debutterà il 4 gennaio sull'emittente Tokyo MX.
Sono di ritorno sia lo staff che il cast: alla regia c'è sempre
Pippuya (Ishida to Asakura)
affiancato da
Kenichi Yamashita (Victory Kickoff)
alla sceneggiatura e
Mizuki Aoba (Initial D: final stage)
al character design e alla direzione dell'animazione, il tutto è prodotto presso lo studio
Dax Production.
Al doppiaggio ritroviamo:
Yuuki Kaji
- Adol Christin;
Akemi Kanda
- Estelle Bright;
Kazuyuki Okitsu
- Dark Fakt;
Mitsuki Saiga
- Joshua Astray;
Il manga a strisce è tutt'ora in corso sul magazine
Dengeki Maoh
di
ASCII Media Works
. La
prima serie anime
, partita il 5 gennaio 2014, si è attestata su 13 episodi da 3 minuti ciascuno. Nel frattempo
Nihon Falcom
ha rilasciato l'ultimo nato del franchise
Eiyuu Densetsu
:
Eiyuu Densetsu: Sen no Kiseki (The Legend of Heroes: Trails of Flash
) per
PlayStation 3
e
PlayStation Vita
.
cast: