Alternative title:
探偵歌劇ミルキィホームズTD (Japanese)
Vintage: 2015-01-03
Opening Theme:
"Milky-a-Go-Go" (ミルキィ A GO GO) by Milky Holmes
Ending Theme:
"Tankyū Dreaming" (探求Dreaming;Quest Dreaming) by Emi Nitta
In the story, the Great Era of Detectives — when detectives and thieves with a power known as "Toys" compete — has given way to the Great Era of Idols. However, someone
starts
stealing the idols' songs in Yokohama. When super idol Marine Amagi's hit song "Kiseki no Uta" (Miracle's Song) is stolen, she enlists the detectives of Milky Hol
mes.
The series is slated to premiere on January 3, but the first two episodes will get an advance airing during the Ō-Misoka Da yo! Milky Holmes 2014 program on Tokyo MX TV on December 31.
Emi Nitta (Love Live!'s Honoka) will join the cast as super idol Marine Amagi. Returning cast members include:
Suzuko Mimori as Sherlock Shellingford
Sora Tokui as Nero Yuzurisaki
Mikoi Sasaki as Hercule Barton
Izumi Kitta as Cordelia Glauca
Yoshino Nanjou as Kokoro Akechi
Aimi as Kazumi Tokiwa
Ayasa Itō as Alice Myojingawa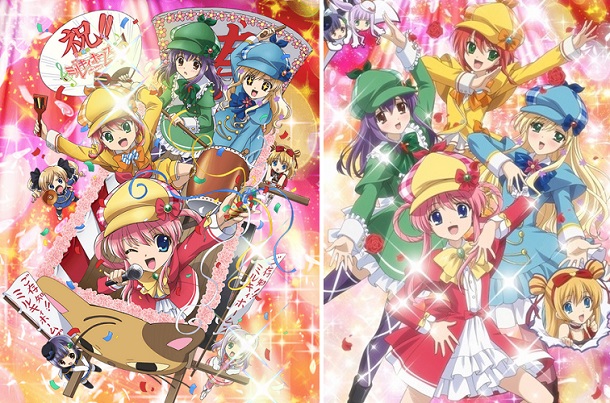 al celebre franchise sarà dedicata una nuovissima serie animata che
debutterà
su
Tokyo MX TV
a gennaio del 2015. L'annuncio è stato dato a settembre dalla sviluppatrice di giochi
KLab
assieme all'etichetta
Bushimo
di
Bushiroad
: l'anime si intitolerà
Tantei Kageki Milky Holmes TD
e la relativa theme song "
OverDrive!
" sarà cantata proprio dalle quattro protagoniste (
le seiyuu
Suzuko Mimori, Sora Toku, Mikoi Sasaki
e
Izumi Kitta
)
, come anche il
tema di apertura
"Milky A Go Go".
In chiusura dell'anime, invece, ci sarà la canzone
"Tankyū Dreaming
" della new entry
Emi Nitta
.
La
Nitta
(
Love Live!
) presterà la voce alla Amagi, mentre
ritroveremo le doppiatrici che già erano state presenti nelle precedenti serie animate
: Suzuko Mimori
è Sherlock Shellingford;
Sora Tokui
è Nero Yuzurisaki;
Mikoi Sasaki
è Hercule Barton;
Izumi Kitta
è Cordelia Glauca;
Yoshino Nanjou
è Kokoro Akechi;
Aimi
è Kazumi Tokiwa; e
Ayasa Itō
è Alice Myojingawa.
Per quanto riguarda invece il compartimento tecnico, questo sarà lo staff coinvolto:
Produttore esecutivo: Takaaki Kidani
Autore originale: Bushiroad, Chronogear Creative
Regia: Hiroshi Nishikiori, Hirokazu Hanai (assistente)
Sceneggiatura: Tenga Komuro, Go Zappa, Shogo Yasukawa, Takayo Ikami, Hideki Shirane, Hyōichi Yokomizu
Character Design: Natsuki Tanihara, Yume Usahara, Mariko Fujita
Comparto musicale: Daisuke Kikuta e Noriyasu Agematsu (Elements Garden), Elements Garden (Daisuke Kikuta, Evan Call, Haruki Mori, Tomohiro Kita)
Responsabile del suono: Takatoshi Hamano
Animazioni a cura di : J.C. Staff/Nomad.
Di Tantei Opera Milky Holmes sono già state realizzate tre serie animate, l'ultima delle quali è andata in onda nell'estate del 2013 con il titolo Futari wa Milky Holmes. La prima stagione è stata invece rimessa in onda in repliche a ottobre 2014.